Seaward PV150 Solar PV Tester Complete Kit
Technical Specifications Seaward PV150 Solar PV Tester
Open Circuit Voltage Measurement (PV Terminals)
Display Range
0.0VDC – 1000VDC
Measuring Range
5.0VDC – 1000VDC
Resolution
0.1VDC maximum
Accuracy
± (0.5 % + 2 digits)
Enunciators
DC voltage polarity correct or reversed
Earth Continuity Resistance Measurement (4mm Terminals)
Test Voltage Open Circuit
>4VDC, nominal
Test Current into 2 Ω
>200mA
Display Range
0.00Ω – 199Ω
Measuring Range (EN 61557-4)
0.05Ω – 199Ω
Resolution
0.01Ω maximum
Accuracy
± (2% + 5 digits)
Test Leads Zero
Zero up to 10Ω, by zero button
Visible Warning
≥30V AC or DC at inputs
Circuitry Protection
Test inhibited if ≥30V AC or DC at inputs
Repeat tests as per IEC61557-4
Approx 4000 1 second test
Rpe Voltage Measurement (4mm Terminals)
Display Range
30V – 440VAC/DC
Voltage Measuring Range
30V – 440VDC
30V – 440VAC 50-60Hz
Resolution
1V
Accuracy
± (5% + 2 digits)
DC Operating Power (via AC/DC Current Clamp and PV Terminals)
Display Range
0.00kW – 40kW
Measuring Range
0.50kW – 40kW
Resolution
0.01kW
Accuracy
± (5% + 5 digits)
Connectivity
USB download to PC (CSV format)
Wireless "Solarlink TM" to Survey 200R (range ~30m/100ft)
Service
2 year warranty (subject to terms and conditions, available at /warranty)
Short Circuit Current Measurement (PV Terminals)
Display Range
0.00ADC – 15.00ADC
Measuring Range
0.50ADC – 15.00ADC
Maximum Power
10kW
Resolution
0.01ADC maximum
Accuracy
± (1% + 2 digits)
Insulation Resistance (Auto Test Sequence, PV Terminals and Red 4mm Terminal)
Test Voltage Open Circuit
250V, 500V, 1000V (as per IEC61557-2)
Test Voltage Specification
-0% +20% (open circuit)
Test Voltage @ 1mA
>1mA into UN x (1000Ω/V)
Test Current Short Circuit
<2mA
Display Range
0.05MΩ – 199MΩ
Measuring Range (EN 61557-2)
0.05MΩ – 199MΩ
Resolution
0.01MΩ maximum
Accuracy
0.05MΩ – 100MΩ ± (5% + 5 digits)
101MΩ – 199MΩ ± (10% + 5 digits)
Visible Warning
≥ 30V AC or DC at inputs
Circuitry Protection
Test inhibited if ≥ 30V AC or DC at inputs
Repeat tests as per IEC61557-4
Approx 3000 1 second tests
Operating Current (via AC/DC Current Clamp)
Display Range
0.1A – 40.0A
Current Measuring Range
0.1A – 40.0A DC
0.1A – 40.0A AC 50-60Hz
Resolution
0.1A
Accuracy
± (5% + 2 digits)
Instrument Dimensions and Weight
Weight
0.95kg / 2.1lb
Dimensions
26.4 x 10.7 x 5.8cm / 10.4 x 4.2 x 2.3"
Display
Custom LCD with backlight
Power Source
6 x 1.5V AA cells
Battery life
>1000 test sequences
Auto power down
User programmable
Onboard memory
Up to 200 complete test datasets
Software compatibility
Compatible with SolarCert software (English language only)
What's included in the kit?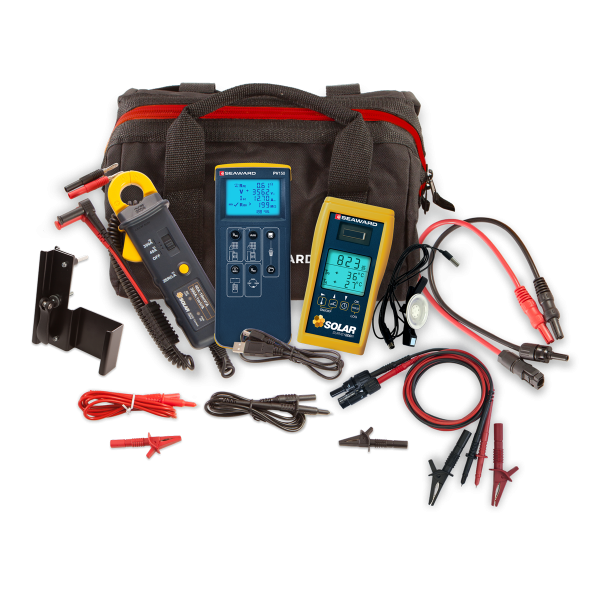 Seaward Solar Installation PV150 instrument.
2 x MC4 test lead adaptors.
2 x Combiner box test probes and detachable alligator clips (MC4).
2 x Test leads, with test probes and detachable alligator clips (4mm).
AC/DC current clamp.
Solar Survey 200R irradiance meter and temperature probe.
Solar Survey 200R mounting bracket.
Rugged carry bag.
Quick Start Guide.
UKAS Calibration Certificate (PV150).
SolarCert PC Software.
Why buy the PV150 multifunction solar PV test kit?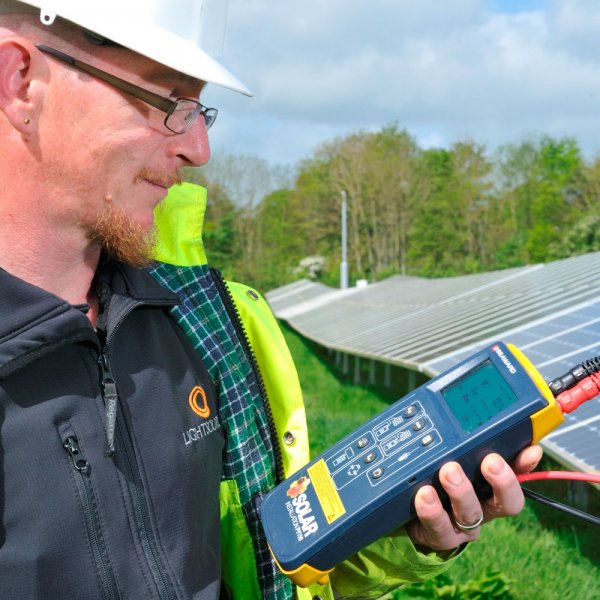 Save time using a number of different measuring tools in the field with this fast and comprehensive solar PV tester.
The PV150 features a safe test connection meaning you can safely test energised arrays.
The unit can also wirelessly capture and record real time irradiance, ambient temperature and PV module temperature measurements from the Solar Survey 200R.
200 datasets can be stored on the PV150 and downloaded to the SolarCert software so you can create professional reports for your customers.